Enjoy Hull and be a good neighbour
Bothered by noise? To report a noise problem, call Hull City Council Environmental Health on 01482 300300 or report through www.hullcc.gov.uk

When making a noise complaint we need:
• Your name and address
• Name and address of where the noise is coming from
• When the noise occurs
• What type of noise it is
• How long the noise has been causing a problem
• Any additional information we need to know about you, i.e. any mobility issues, best time to visit/call

What we will do next:

An officer from Environmental Health will contact you to verify the information that you have provided within four days of you making the complaint. This officer will be your case officer.

Your case officer will initially send out letters to both yourself and the person making the noise. Your details are kept completely confidential. Your letter will contain the officer's contact details, i.e. direct dial telephone number, email address.

In most cases this action resolves issues; however, if the noise continues, please re-contact your case officer to advise that further action is required.

Your case officer will send the person making the noise a formal letter, and will send you some diary sheets in order that the formal investigation can begin. It is imperative that you start to keep an accurate written record of noise incidents on the diary sheets.

If the noise continues after this formal investigation has begun, you should contact your case officer immediately. Your case officer needs to witness the noise.

Action that may be taken to witness the noise:

• Installation of noise recording equipment
• Officer visits when the noise is occurring (in some cases this may be out of hours)

If a noise is witnessed and this is deemed to be a statutory nuisance, your case officer will serve an abatement notice on the person making the noise, requiring action to be taken to abate the nuisance. If the abatement notice is breached, your case officer will proceed with a prosecution and in some extreme cases apply to the courts for a warrant to confiscate the noise-making equipment. If you have any queries about this procedure, call 01482 300300 and ask to speak to an officer from the Environmental Health Noise Team.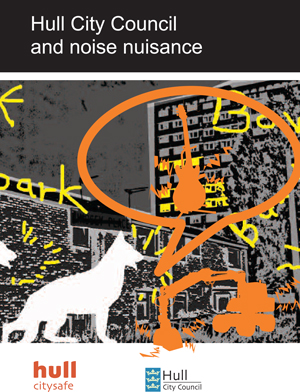 Don't let anti-social behaviour ruin your neighbourhood
Anti-social behaviour comes in a variety of forms, such as intimidation and harassment, graffiti and vandalism, misuse of public space, noise nuisance, youth nuisance, fly-tipping, racial harassment and hate crime.

If you make a complaint of Anti-social behaviour, a member of the Neighbourhood Nuisance Team will contact you initially by telephone or in writing. We will ask you to keep a log of incidents, which helps them to understand the problems you are experiencing.

Dealing with anti-social behaviour isn't the responsibility of one agency. We work with other agencies such as Humberside Police, Public Protection, Hull City Council Housing Dept, and Social Services, to name a few.

We understand every complaint is different. We will make sure that your individual needs are catered for by arranging a support package for you.

If we are not able to offer you the level of support you need, we will not leave you to cope alone. We will put you in touch with agencies that can offer the level of help and support that you need.

Any information given to us will be treated in confidence. It will not be passed to the person who is named without the permission of the complainant.

Please be aware that in the event of anonymous complaints we will investigate them as far as possible but are unable to advise the complainant of the outcome of our investigation, nor can we check any facts or responses from the perpetrator with them.

So if you feel you are suffering from nuisance or are worried you might be causing nuisance and just want advice – GIVE US A CALL

Reporting Anti-Social Behaviour & Noise Nuisance


Telephone: 01482 300300.
Letter: Neighbourhood Nuisance Team, 3rd Floor, Kingston House, Bond Street, Hull, HU1 3ER.
In Person: Visit any Hull City Council Customer Service Centre

If your complaint is an emergency, contact Humberside Police on 999

If your complaint involves criminal damage, public disturbances, drug dealing or harassment, please contact Humberside Police on 101

If your complaint is a noise nuisance from a non-council dwelling, please call 01482 300300 and report to Environmental Health Public Protection