posted:
16th January 2014, 1:39pm
tags: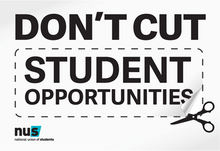 As some of you may be aware, the Student Opportunity Fund is under threat, and we need your help. For those that dont know, the Student Opportunity Fund is a collection of payments that make it possible for Universities to support the added costs of recruiting and supporting harder to reach students. Find out more about it HERE
The Student Opportunity Fund is vital in encouraging Universities (such as Hull) to recruit students who are from poorer backgrounds, who may not have had the natural encouragement to think about coming to University.
Young people from more advantaged neighbourhoods are three times more likely to go to University than those from poorer backgrounds, and cutting funding from schemes designed to help those from poorer backgrounds is not helping.
If you, like me, believe that at a time of 9K fees and other cuts to important programs designed to increase social mobility, that it is fundamentally wrong to cut the Student Opportunity Fund.
Here's what you can do to help
Tweet your local MP, @DianaJohnsonMP, to ask her to lobby the Government to not slash at the student opportunity fund.
Email the Secretary of State for Business Innovation and Skills (who will be making the decision) here

[email protected]

Contact your University's Vice-Chancellor, Calie Pistorius to lobby the Government on our behalf.

[email protected]
comments powered by