posted:
17th June 2016, 9:00am
tags: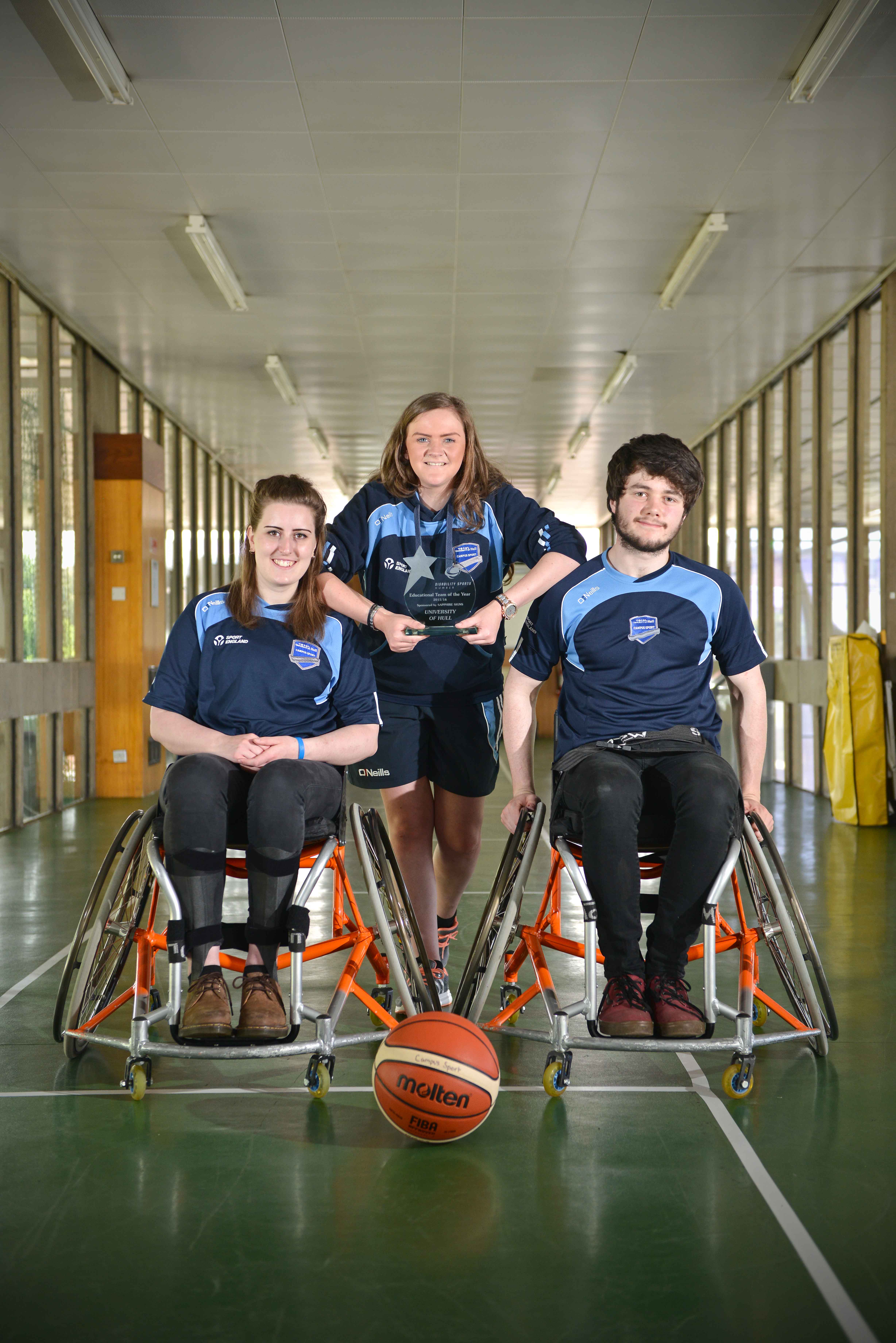 The University of Hull has been recognised for its work in making sport inclusive for all students.
In the Hull and East Riding Disability Sports Awards, the University' sports team won the award for the school, college or university that has done most to promote inclusive sport in the region.
The inclusive programme was developed after the disability officer at British Universities & Colleges Sport highlighted that the University had one of the highest percentages of students with a disability in the UK.
The sports team carried out a survey to find out what activities students would like to try and based on the results, the sports team created a 10-week programme offering a different sport session each week.
The sessions included wheelchair basketball, volleyball, archery, badminton, fencing, wheelchair rugby, blind football, cricket and goal ball.
Following further consultation with students, local clubs and University teams delivered three-week programmes for wheelchair basketball, wheelchair rugby, sitting volleyball and athletics. A new programme of inclusive sports is due to start in September to coincide with the new academic year.
Sophie Johnson, Sports Development Officer at the University, said:
"The main emphasis of the inclusive programme is that anybody can take part whether you are able bodied or have a disability. It's all about having fun, trying a new sport and getting active at the same time.

"Our aim is to provide excellent sporting opportunities for all student and staff members at the University. It's great to be recognised in these awards."
Disabled student Georgina Lord, 21, joined the inclusive programme last year and has taken part in a wide range of sports including wheelchair basketball and rugby.
Outside University, she plays wheelchair basketball for Kingston Panthers, wheelchair rugby for Hull FC and is training to become a wheelchair racer.
Georgina, who has just completed the first year of a Sociology, Anthropology and Gender Studies degree said:
"Before I came to university, I didn't do any sports. Now my life revolves around sport. I feel really lucky to have chosen Hull because there are lots of inclusive sports opportunities at the University and in the local area."
Computer science student James Morris, 18, has recently been appointed as a Campus Sports Activator and helps to organise and coach the inclusive sports programme. He said:
"I've been big into inclusive sports for a few years. I've played wheelchair basketball for three years and was a member of my local wheelchair rugby team. Since I've come to University, I've also got involved in sledge hockey.

"I feel inclusive sports are a lot more tactical than able-bodied equivalents. Because you are in a wheelchair you can't just barge your way through people – you need to know where to be and where to move, which makes it a lot more positional.

"Wheelchair sports have allowed me to make lots of new friends and opened a lot of doors in terms of jobs and work experience. Compared to most universities, Hull offers a wide range of inclusive sport."
The Hull and East Riding Disability Sports Awards were set up three years ago to celebrate and acknowledge the achievements of those involved in local disability sport.
Hull is one of only three cities in the UK to hold these awards. The University of Hull's Award for Educational Team of the Year 2015/16 was one of 16 up for grabs at the ceremony at the KC Stadium.
Steve Curtis, Sport Partnership and Project Manager at the University, said: "Winning this award raises the profile of what we can offer all students and will hopefully encourage more students to get involved next year.
"The aim of the programme is to encourage everyone to come down and try something, whatever their background. It's designed to be fun and not too competitive and everybody is welcome.

"Two of the most popular sports have been wheelchair basketball and rugby, where the majority of participants are not wheelchair users."
As part of its strategy to increase participation levels in sport, the University is investing more than £10m in sport and exercise facilities at the Cottingham Road campus, including a new sports hall, fitness suite, floodlit pitch and pitch-side changing rooms.
The investment also includes resurfacing all artificial pitches and the creation of a new strength and conditioning suite and the refurbishment and enhancement of existing facilities.
The investment in sports facilities is part a £200 million investment in infrastructure and buildings already underway across the University.
Follow Campus Sports on Facebook and Twitter for regular updates on sessions.
comments powered by